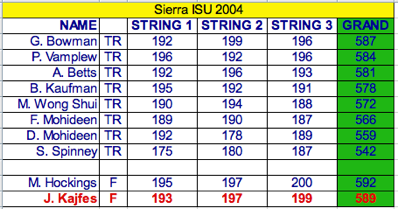 Seirra ISU Match 2004
Unbelievable! If you had a canoe or row boat it would have worked well at the Mon's ISU match. It started raining right during the first relay and by the end of it was seriously pouring down. I had a 1/4 inch of water in my bullet box by the end of the day and I was closing it every change I got like after inserting each round. We had unlimited sighters, though most guys generally went on score by the fourth or fifth round. It was single stringing which isn't something I've done much of. Things were happening so fast I didn't bother to record my shots. Everything was way too wet anyway! I had one of those fancy space pens and it actually does write on anything even when it's very wet. I was recording Gary Bowman's score cards and they were so wet that I left his cards in Tony Betts car to dry out. I had about half of my shoot of 20 shots down range in less than a few minutes. A string of 10 tens and then started dropping points, an 8 for sure and a few 9s for a total of 197 outta 200.

During my second relay the rain was furious, the wind was nuts and I was shaking pretty good from the cold but I managed to shoot a 197, dropping 3 points during that match. For my final effort during the 3'rd relay I almost cleaned the targets dropping a single point. These were the worst conditions I've shot in, in a long time (3 years) yet it was one of my best shoots! It had absolutely nothing to do with being good at coping with the weather. I just wanted to get it done and get it over with. I noticed Mike Hockings and I were left swinging in the wind as the rest of the F-Classer's either bugged out or drowned! For sure I thought it was the latter until I saw Norm Barber the following day. I really think we should have been issued with life vests for this shoot! I was paired up with Pat Vamplew and Gary Bowman. Both these guys are great TR shooters. I couldn't believe the V-bulls Gary was pulling off and Pat was just as tenacious. I don't know how you guys do it with iron sights with that much rain pouring down on your heads. Especially if you're using those Eagle Eyes... one drop of water in the right place on the lens and I'd think you'd be screwed. I've never seen Mike Hockings shoot before but he was also incredible. He won the F-Class but then again there was only two of us shooting... I guess the other guys left because they couldn't swim? Whatever...

I really have to double compliment the markers for the match. These were just impossible conditions to shoot in let alone trying marking like in trying to get patches to stick to the drenched targets. They did an incredible job of keeping up and I for one really appreciate their efforts during this ISU match. I won a box of Sierra Palma bullets. Hey Pat, you'd better shoot something great with them or the price is going up next time!