Winona Championship 2004


I haven't had much time to update the website and doing it weeks later I can't remember much of what happened in some matches. I was going to shoot the matches at Cedar Springs but I couldn't get away for a two day shoot so I had to be satisfied with shooting a single day, bummer! From what I can remember though the weather was okay. I don't remember climbing into rain gear for this shoot and I don't think the wind was anywhere near Ivan's strength.

The match was shot at 500-600 & 800 yards. The turnout was down because some of the regular shooters were naturally shooting in Cedar Sprigs. I did ok at 500/600. I managed to get a few points up on Terry... that's a switch! Then all H broke loose at 800 I had a lotta trouble holding the V whereas Mr. V... a.k.a. Terry Perkins didn't have any trouble at all shooting 14 outta 15 possible Vs! Incredible shooting Terry. Only one recommendation, you need to spend more time doing things like watching TV, or spending time with the family, washing the truck, taking the wife shopping or even working! I have to hand it to you, you are one tough competitor. Hope Heinz, Jim and you have a great time when you go states-side down to Butner... give'm heck and wish I could go... anyway be thinking about you guys down there!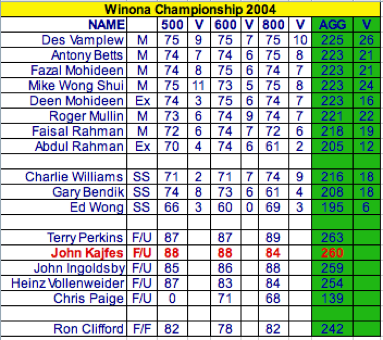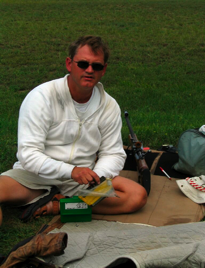 Des Vamplew photo was taken at a later match. Des or Mr. Consistency won Winona in 2004 on the TR side of the fence.