Fall Palma 2003

Borden Oct 11, 2003
The Fall Palma began like any other match day, markers, lots of shooters 800, 900 and 1000 yards and lots of fog!! The fog lifted at 10:30am with 31 shooters ready to go. Due to the delay, the match schedule was altered slightly, making the matches at 800 and 900 yards 10 shots instead of the usual 15 shots. The sun burned off the fog by the 900 yard range and everyone enjoyed a light breeze from the right with temperatures reaching the mid 20's by mid afternoon.

The F Class was a hard fought event with Bob Pastor, Michigan USA winning over Terry Perkins after a count back at the 1000 yards. John Kajfes also had the same score but finished 3rd with fewer X's.

Roger Mullin nipped Fazal Mohideen and Andrew Sims in the Target Rifle classification. The Expert Class was won by Andy "Gzowski" Kolenko!! New comer Gary Bendik won the Sharpshooter Class with a fine performance.

A special thanks to John Brooks (Chief Range Officer), Gil and the butt crew and too all the shooters who made the long trip for the Fall Palma 2003.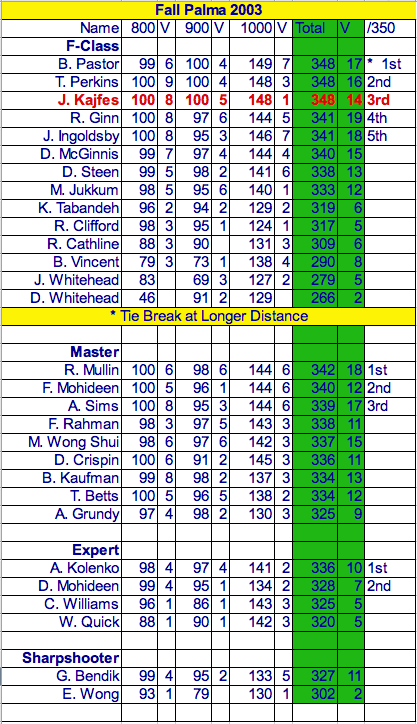 A single point or V-count can make or break your day! After holding my own at 800 & 900 yards good old Bob Pastor and Terry Perkins pull rabbits outta their gear, be seeing you guys in 2004. Pat Vamplew congratulating me on placing in the Fall Palma. Pat the character actually tried to get away with just a handshake rather than giving me one of the small whie envelops! I miss these guys during the winter months.

The ORA site has the scores listd with a countback on who grabbed first place. but if you do the match seems Bob won this one outright or Terry's missing a V somewhere in the scoring. I do all my scoring in Excel sheets as I don't trust my additions.